Watch the video to find out more about the course!
THE OBJECTIVE OF THE COURSE
The objective is to revise the entire A1 level in French in a fun but challenging and practical way. This is a self-paced French course. The objective is to support your French learning and help you test your knowledge in French. This is a not a full A1 level teaching course. This is a revision course of the whole A1 level.
THE FOCUS OF THE COURSE
The focus is on all components of the French language: vocabulary, grammar, communication and French culture.
AFTER THIS COURSE YOU WILL
Think more naturally in French.
Retain more of the language.
Be able to express yourself in past, present and future tenses.
Have a basic conversation in French.
And above all be more confident with your everyday French!
WHO IS THIS COURSE FOR
This course is perfect for beginners students who want to make sure they acquired the basics. However, this course is not made for complete beginners. You must have a basic knowledge of the language to complete the course. Ideally, you have either completed an A1 level course at a French language school or online, or in the process of taking an A1 level course.
It is also a great revision course for intermediate students who want to revise their basics.
LEARNING MATERIAL PROVIDED
Four 30 day calendar, with each day a task to complete, which is 120 days worth of content.

The 4 French calendar posters translated in English.
All the instructions recorded in French for you to practise pronunciation.
Beautiful inspirational worksheets for you to put your answers.
Sample answer sheets.
Plus bonus French recordings.
Contact me at [email protected] if you have any questions!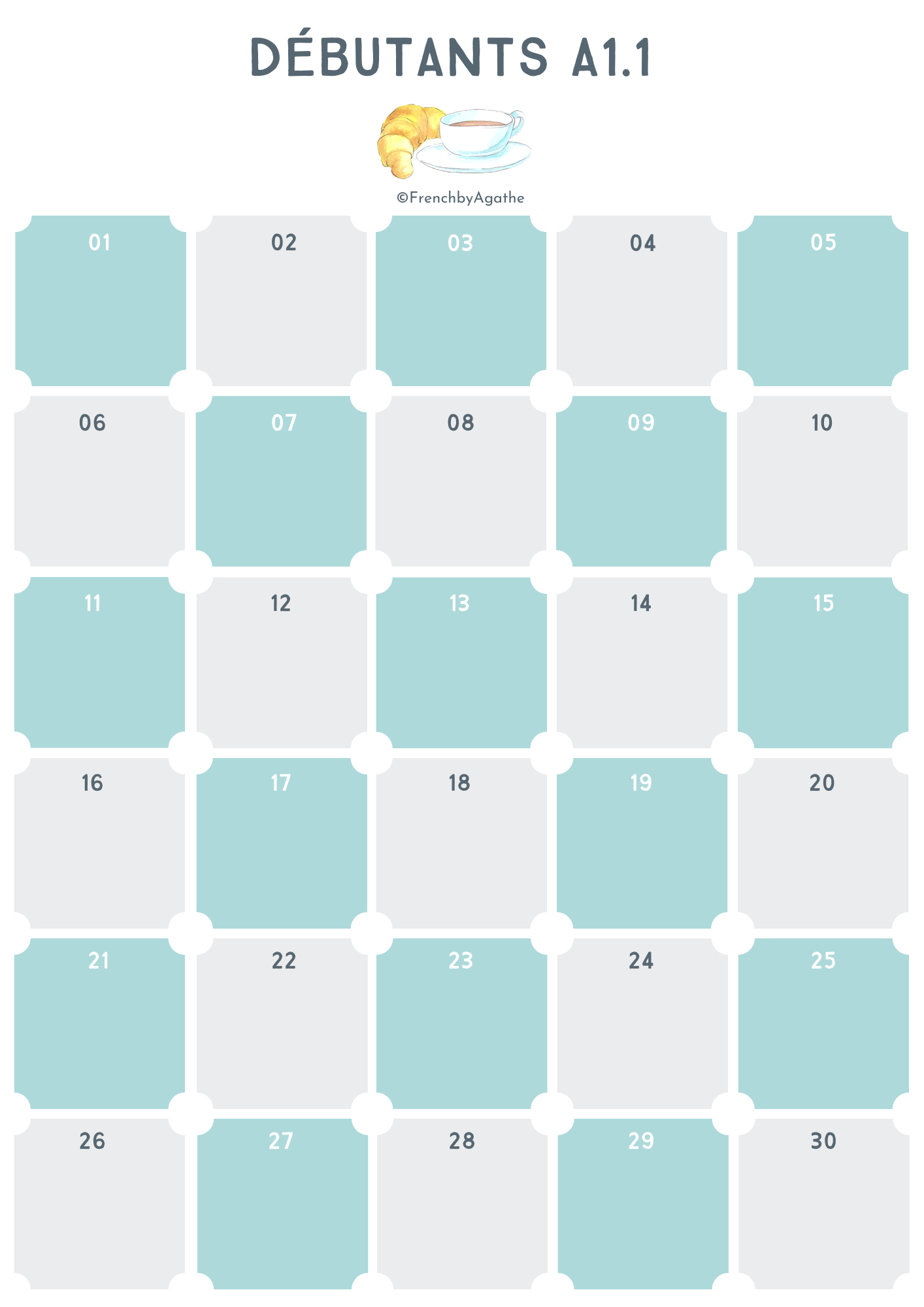 Sample of a 30 day challenge calendar
There is one task for each day written in French and in English for you to complete. I have created 4 posters of 30 day challenges, which is worth of 120 days of content.
There is one activity for each day. However you can take the course at your own pace.